The price of second-hand housing rose by 0.4% in July
Nationally, the price rises in nine regions

The price of second-hand housing stands at 1,700 € / m2 in July

24 provinces the price increase in July

Price increases in 14 districts of Madrid and Barcelona eight
The average price of resale property in Spain is in July at 1,700 € / m2 and recorded a monthly increase of 0.4%, according to data from real estate portal Fotocasa . This slight increase shows a month, the price of second – hand housing is stabilizing and we are leaving behind big price drops we have attended in recent years.
Regarding the interannual variation, the price to July 2017 increased by 4.6% over last year and is the tenth consecutive annual increase. It is also the sharpest since May 2007 year increase when the price rose 5.4%.
"In the first half of the year it has consolidated the recovery of the housing market and that prices are moving. A housing demand by foreigners, has joined the internal thanks to the improved economic context and the return of funding. All indications are that good economic forecasts for the remainder of the year will allow the revival of the real estate sector takes hold, although the recovery will be very uneven and go through areas , "says Beatriz Toribio.
The average price of second-hand housing in Spain has accumulated a fall of -42.4% since its record high recorded in April 2007 with 2,952 € / m2. In this regard, 11 autonomous communities have fallen to -40% higher since reaching the maximum price ten years ago. Thus, the Rioja is the community that has seen the price drop (-56.9%), followed by Navarra (53.4%), Castilla-La Mancha (-51.6%), Aragon (-51.4 %), Murcia (-49.9%), Asturias (-46.8%), Valencia (-46.1%), Cantabria (-43.2%), Catalonia (-42%), Madrid (- 41.5%) and Extremadura (-41%).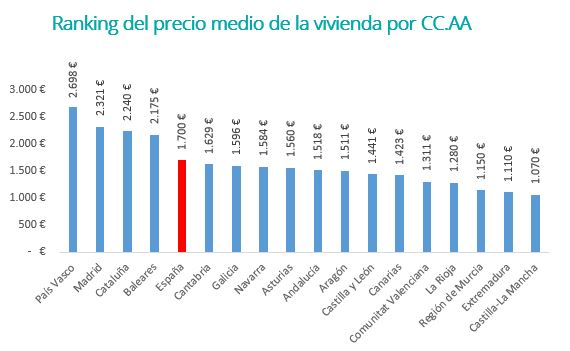 The price increases in nine regions
Of the 17 regions in July the average price of second-hand housing rises in nine of them. The most marked increase occurs in Catalonia, La Rioja, up 0.8% in both communities, followed Balearic and Canary (0.7%), Andalusia (0.6%) and Extremadura (0.5%).
At the other extreme, Navarra is the community that sees drop the price of second-hand housing in July, namely -1%, followed by Galicia (-0.6%) and Castilla-La Mancha (-0, 3%) and Murcia (-0.2%).