Catalonia, the Canary Islands, Madrid and Murcia, regions where it is more profitable to buy to let
In Spain, acquire a rental property currently offers a yield of 5.7%

Galicia, the Basque Country, Asturias and La Rioja are communities that offer less profitability

Hospitalet de Llobregat, Alicante, Elche and Las Palmas are the most profitable municipalities

Barcelona is one of the least profitable towns while last year stood in the middle of the table
Acquire home ownership to put rent is becoming more profitable year. This follows from the analysis by the real estate portal fotocasa from the latest data from the price of housing for sale and rent in September. These data show that, on average, annual returns that can be obtained in Spain of a property bought to put it later on rental basis is 5.7%, while in 2016 it was 5.3% in 2015 was the 5.2% in 2014 was 5% and 4.8% in 2013.
By communities, Catalonia, Canary Islands, Madrid and Murcia are the most profitable to buy a home and put it on rent. Thus, California offers a yield of 6.6% (from 6.1% in 2016 and offered 5.4% of 2015), followed by Canary (6% versus 6.1% 2016 5, 4% 2015), Madrid (5.9% versus 5.6% 2016 and 5.2% of 2015) and Murcia (5.9% versus 5.6% and 5.1 2016 % in 2015).
"Confidence in the residential market has returned and the high returns offered right now rent are making large but also small investors are betting on home purchases since neither the bag nor the public debt or deposits offer a return of 5-6%.
YIELDS   2017  v 2016  v 2015  v 2014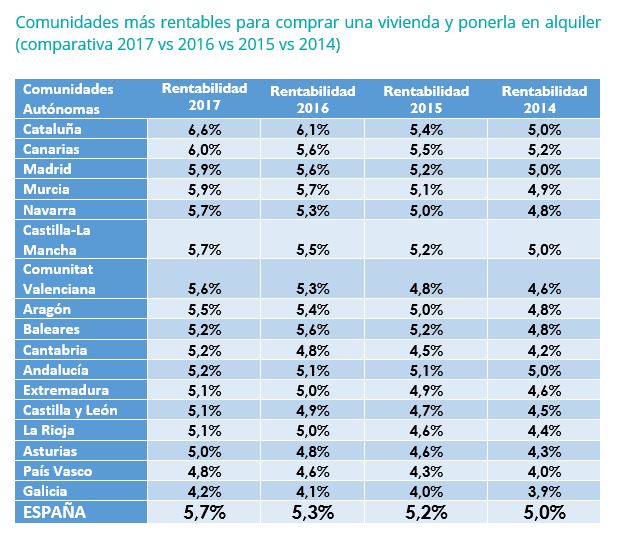 Galicia, the Basque Country, Asturias and La Rioja are the Spanish regions offering lower returns, namely 4.2%, 4.8%, 5% and 5.1%, respectively.
Hospitalet de Llobregat, Cordoba and Malaga are the most profitable municipalities
Analysis Fotocasa also provides performance data of 20 Spanish municipalities with more inhabitants. Thus, the study shows that Hospitalet de Llobregat (6.1%), Alicante (5.7%), Elche (5.6%) and Las Palmas (5.6%) are the most profitable municipalities buy a home and put it on rent.
At the other end, A Coruña (3.9%), Barcelona (4.2%), Vigo (4.4%) and Bilbao (4.5%) are the least profitable municipalities to buy a home, as the price of resale flats is not falling at the same pace as in other municipalities and the rent is more balanced compared to sales. In this regard, draws attention to Barcelona in 2016 was ranked 10th among the most profitable municipalities and in 2017 ranked No. 19, ie, it is one of the least profitable municipalities to buy a home and put it on rent.
"The fall of profitability in Barcelona is explained by the strong price increases, growing at a rate of almost 20% compared to last year and rent stabilization. Still, a yield of 4.2% is very interesting especially when you consider the high demand for rentals in Barcelona and its reduced offer.
Yields 2017 V 2016